FILOPAPPOU HILL

Sunday 21st May, 2023

Run #2201

Hares: Jacket Off + Marty

Photos: Mad Dog, Marty, Bouboulina. Web page: Mad Dog
ON TRAIL
THE CIRCLE
Visitors from Italy
The Hares
Fair Cop takes the circle
Mad Dog & Doggy Style - for being late
The 4 visiting hashers from Italy
The visitors give us a song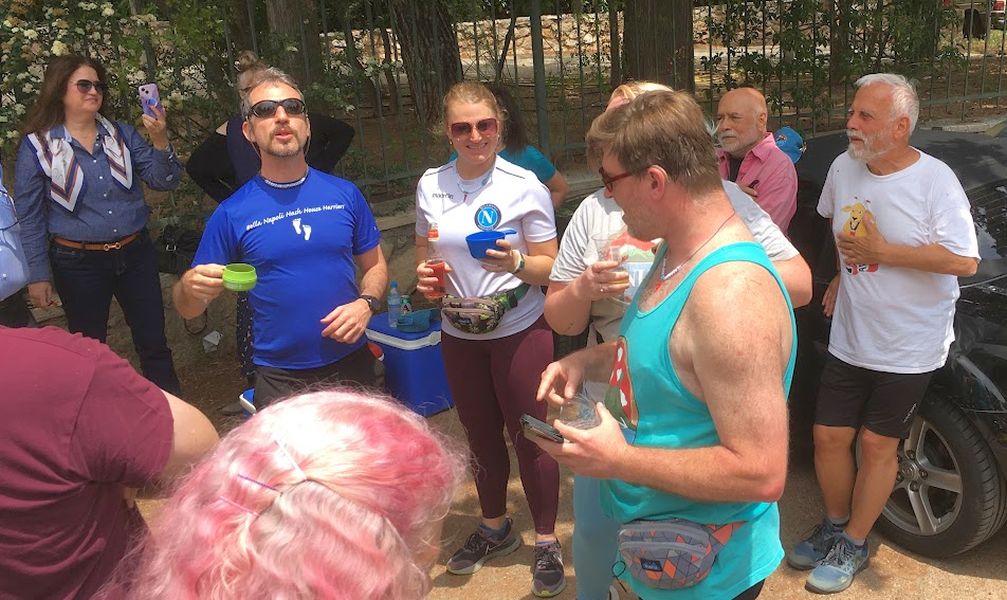 And the french visitor gets a song
Mountain Goat
New boots - brought by Oxymoron. Will she return?
Meat taverna in Petralona
Persefonis 3, Athina 118 54
https://maps.app.goo.gl/n9vpuFTZTGjWN4sw6
17 euros each. So much meat & lots to drink.
MAD DOG & DOGGIE STYLE'S BIT
(A walk after arriving a few minutes late and missing the pack)

Doggie Style with Lycabettus Hill (Lykavitos) in the background
The Acropolis in the background
Doggie Style, Playboy-2, Flutterby
Doggie Style, Mad Dog, Flutterby
Socrates prison
Kimon Koalemos's tomb.
Kimon was a renowned Olympic chariot-racer and father of Miltiades who led the Athenian army at the Battle of Marathon.
DIRECTIONS TO THIS HASH
Date: Sunday 21st May 2023 – 11am
Run: 2201 – sort of…
Hare: Jacket Off
Venue: Athens observatory car park – Filopappou Hill
On Inn: somewhere local…

MisDirections:
By Metro: Get off at Thission metro (green line) and walk right up the hill on the pedestrian road Apostolou Pavlou. Turn right towards Aghia Marina church. To the right of the square in front of the church there's a path that goes up to the National Observatory. Meet outside the Observatory by the steps that are next to Filopappou Hill. [Map below]
By car: Make your way to Pireos Street, central Athens. Driving south towards Piraeus, take a left turn to Thissio on Iraklion Street which turns onto Nileos. Be careful at the top of Nileos next to loads of cafes - do not follow the road around a sharp hairpin bend (on to Akamentos), but carry on (leftish) to what looks like a pedestrian walkway (cars are allowed on this stretch) and take the second right turn. Follow this road uphill as far as it will go. Carry on for about 1km and turn right on Bikos which will take you up to the National Observatory. There are plenty of places to park there. [Map below]

GPS: 37°58'21.7"N 23°43'04.5"E - OR- 37.972706, 23.717915 (Both corrected)
PLUS CODE: XPF9+35 Athens, Greece
LINK: https://goo.gl/maps/KU2MN3psEbRf2Pn98
Lost? Directionally Challenged?? Just plain gormless and stupid???
Call: ?? JO 6971580110
Please use your "Back" Button (Top Left) to return to the previous page