PHOTOS: Tender Vittles and Mad Dog
Ano Melissia Outdoor Theatre
Mardi Gras beads (from USA) being tossed to the hashers
ON-ON
BEER STOP IN MAVROMICHALI PARK
Runners and Walkers meet up
THE CIRCLE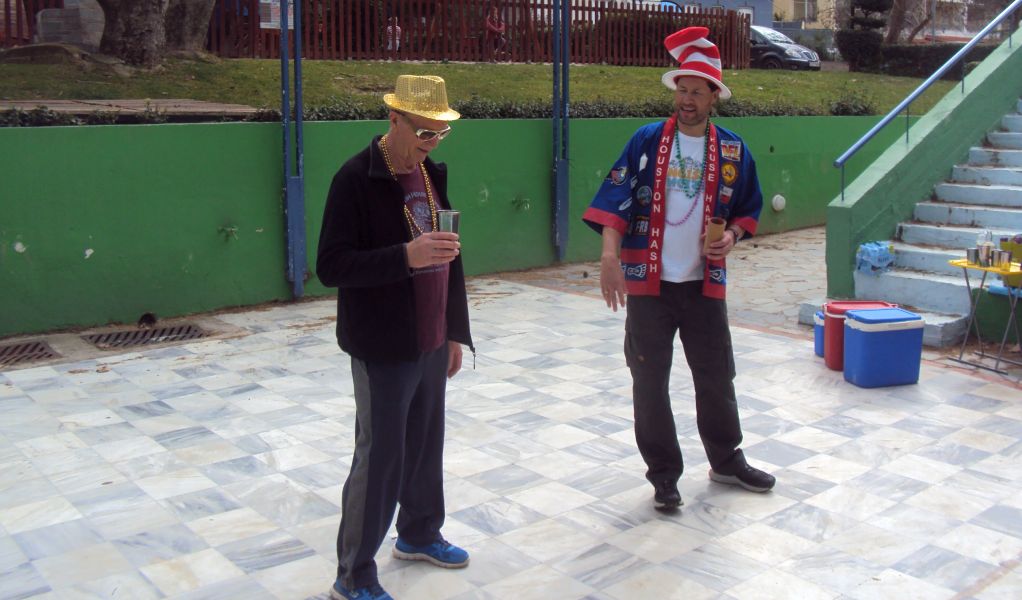 MAGGINAS TAVERNA
GPS RECORDING OF THE TRAIL
MAPS FOR THE WALKERS
MIS-DIRECTIONS FOR THIS HASH
Date: Sunday 26th February 2023 @ 11am aka 11.00hrs
Run: 2189-ish
Theme: CARNIVAL FUN RUN
Hare: Mad Dog
Venue: Ano Melissia - Open Air Theatre - At the Northern end of Iroon Polytechniou Street.
On Inn: Local taverna

READ THIS BLURB
This Sunday is the last day of Carnival and traditionally the big celebration.
So try to wear something carnivally like a hat, a wig or a mask (or a costume if you like).
(Hint: Available in stores like Sklavanitis or Jumbo)
Those with caricature faces come as they are :-)
We will have a run / walk round Melissia and amuse the locals.
The ON-INN will be at a taverna - right next to the Open Air Theatre.
We will distribute some Mardi Gras beads (brought from a Mardi Gras in the USA) as before.

MIS-DIRECTIONS:
Ano Melissia - Open Air Theatre - At the Northern end of Iroon Polytechniou Street. (Next to the well known Mageenas Taverna)
From the South:
Follow Kifissias Ave northwards towards Maroussi and at the Maroussi square & Germanos building on the left, turn RIGHT for Melissia, (see small sign for Melissia in Greek). Carry on up this road (Odos Pendelis ...changing to Democratias further up) until you come to a hairpin bend. After the bend, the shop (right) and kiosk (left) continue on up until you see a large BP petrol station on your left (just before you enter the centre of Melissia). You need to turn LEFT here but you can't (legally). You must turn Right and go round the grass island (as the sign indicates) in order to turn left. Continue on up the hill (this is 25th March street), passing the Amelia Fleming hospital on your right and continue STRAIGHT on, through the traffic lights at the cross roads (when green!).
Continued Directions for all routes >>>>>
Continue straight and pass the big Eleftherias square (Ano Melissia) on your right and then St. George's church on your right (Note: the road has now become 17th November street).
After passing the church just continue on this road (after a while it will curve to the right) and shortly you will come to the taverna area (you will see a bus stop on the left). Park around here or turn right and go down and park around or behind the Theatre / playground area.
From Kifissia / Ekali / Politia etc:
Come the back way on Harilaou Trikoupi street towards Ano Melissia, passing Kefalari square on your right. Continue on straight, then round the Left, Right and Left bends and continue straight again (sign posted for Melissia, Stavros, Airport, etc). When you arrive at the (usually busy) T-junction in Ano Melissia, turn LEFT onto 17th November street (NOTE: At this junction, most of the traffic will be turning right).
Now see Continued Directions ABOVE.
GPS location: 38° 03' 54.05" N, 23° 50' 31.47" E -or- easier 38.064787, 23.842081
PLUS CODE Blah blah blah
LINK https://www.google.gr/maps/@38.0650373,23.8422022,19z?hl=en
Lost? Directionally Challenged??
GPS not working or you don't know even what it is? Just plain stupid???
Call: the Hare: Mad Dog 6932 511339
Please use your "Back" Button (Top Left) to return to the previous page