MOUNT PENDELI
Sunday 16th October 2022
Run # 2172
Hare: Rim Job
Photos: Mad Dog & Fair Cop
BEFORE THE RUN AND WALK
Fair Cop opens the pre-run circle as RA Tender Vittles was off sick
Hare Rim Job explains his two flour colour trail
Rim Job's trail markings
ON ON!
Returning from the first falsie
On-down
On-Up
Walkers and runners meet up. Coke dealer shows the walker's map.
Walker's group
Runners in the bushes
View from the beer stop
Hare Rim Job hands out the beer from the bag he had hidden in the bushes
Hashers share the large cans of beer
Fair Cop takes a group photo at the beer stop
Look carefully and you will see a check. Maybe this flour colour is better used for camouflage?
Oxymoron arrives for the circle in his sports car
THE CIRCLE
The hare's down-down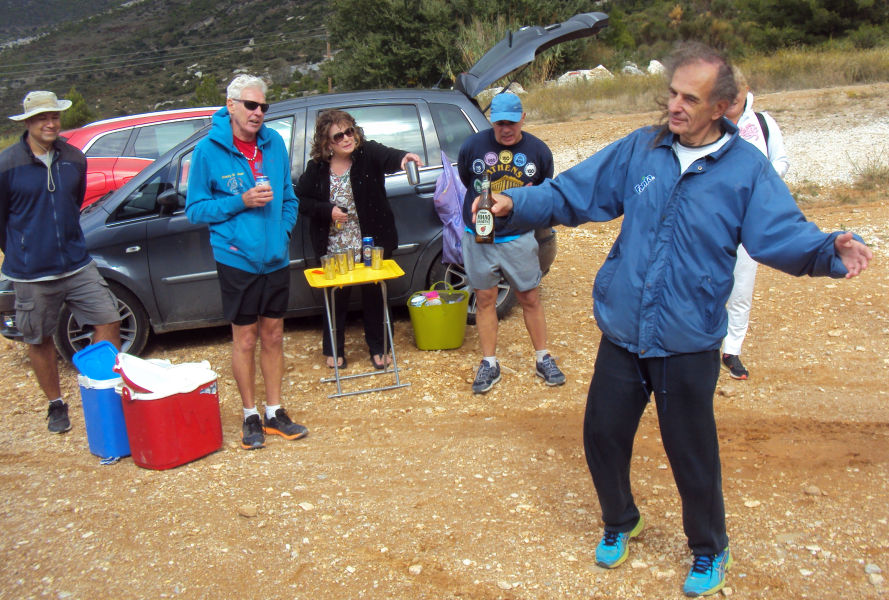 Walker's down-down
Doggie Style sips her beer
GM Jacket Off welcomes new boots
Clitoria (as Virgin checker) interviews the newcomers
Jacket Off then welcomes visitor Body Parts a science teacher visiting from Karachi, Pakistan
Oxymoron
Returnees down-down
Body Parts is presented with an AH3 visitor's badge
TRAIL RECORDINGS
From Pussy Basher's Garmin watch
From Mad Dog's Strava app.
DIRECTIONS TO THIS HASH
Date: Sunday 16th October – 11am
Run: 2171 – sort of…
Hare: Rimjob
Venue: Penteli – abandoned quarry area
On Inn: somewhere local…
MisDirections:
> From the south towards Kifissia:

Go North up Kifissias Avenue, through Kifissia Centre to Nea Erythrea. As you approach Nea Erythrea, there is an AB store on your right and traffic lights about 200m later.
Turn right / uphill at the traffic lights (between Alpha bank and Shell petrol station) into Harilaou Trikoupi street (which soon bends right)
Follow this road for about 1.5km and turn left at the third set of traffic lights into Xenias street.

(If you pass the 'YES' hotel or the pink and green 'Semiramis' Hotel on the left, you have gone too far.)
Head up Xenias street for 1.2km and then the road bends 90 degrees to the left (just before the derelict Mustang stables) and continues as Agiou Panteleimonos street ( it's the back road to Nea Pendeli).
Follow this road for 2.5 km until you reach a junction with the road on the left leading up the to mountain and a Monastery (you will see a brown sign saying "Ag. Padeleimonas monastery 3 Km")

Take this left turn uphill, go about 0.6km and on the right side is the abandoned quarry, where the hash starts.
> Alternatives
[if familiar with Kifissia, ~0.5km after the centre, just after an EKO and just before an Aegean petrol station, go right on Mousson St. and at the traffic lights turn right onto Harilaou Trikoupi

and next block/traffic lights up left onto Xenias street etc. ..saves you 1-2 km]

You can also reach the T junction (and final turn uphill/now right) from other end of the mountain road (Agiou Panteleimonos) through the Nea Penteli village.

[Approx.] From Halandri & Vrilissia, up Pentelis Ave, past the junction from Melissia (west/left) and Stavros (east/right) go for another ~ 2km.

At traffic lights /Nea Penteli sign/ schools go up left (Al. Panagouli St ?). Continue up past the plateia, veers left, uphill (now 28th October st? then renamed Kifissias st.)

and then a sharp corner left onto Evias St. will lead to the mountain road. (the same streets change many names, better look up a map :-)

GPS: 38°04'43.1"N 23°51'39.8"E -OR- 38.078650, 23.861050

PLUS CODE: 3VH6+FC3 Kifisia, Greece

LINK: https://goo.gl/maps/KkX1yP2uX86zug7e7
Typographically or cartographically challenged?
Lost??
Just plain gormless and stupid???
Call a hare: Rimjob 6977 53 23 00
Please use your "Back" Button (Top Left) to return to the previous page