LOUTSA

Hash and AGPU

Sunday 14th November 2021 - AH3 Run 2132

Hare: Fair Cop

Start: 37.949231, 24.006694

Trail length: 5.3 km


Photos : Mad Dog & 3D4P

Web page : Mad Dog
The start at FC & WD's pad
RUN and WALK
Runners and walkers set off
Walker's group
3D4P having run the Marathon 10km and 5km is wondering why he is running again today
The water looks inviting - maybe go for a dip instead?
The runners continue along the coast
Two small dogs enjoy barking at us
FC with 3D4P on the sandy beach
Running along on the sand
Runners continue and finally return back to FC & WD's pad, as do the walkers.
THE CIRCLE
Gathering before the circle
Outgoing RA and hare Fair Cop starts the circle
Present Master of Music Tender Vittles leads in a song
Oxymoron joined us today
The hare's down-down
Krazie Puppy has changed 4-year old Violet's outfit as she loves to wear her princess dress
Olympia relaxes on the steps
Oxymoron gets the Oxymoron Memorial down-down
3D4P (Three'n'fourpence) is a frequent visitor from the UK and used to be resident in Greece
Visitors - Pussy on Pop's Sickle (P.o.p.s) & Mr. Bigglesworth
10km Marathon runners 3D4P and outgoing GM Mad Dog
Natalie
Visitors again
Rim Job
AGPU Voting
RESULTS
NEW GM: JACKET OFF
NEW RA: TENDER VITTLES
Other positions much the same
Fair Cop reads out the results of the highly democratic voting system :-)
New RA Tender Vittles hears his result
The hashers seem happy with the election results
Wet Dream's tasty selection of food prepared for us
Oxymoron piles his plate high (as do most others)
KARAOKE TIME

Fair Cop has set up a Karaoke system for us and after all the free drinks, everyone is ready.
Violet sings but can't yet read the words
Violet sings the "Baby Shark" song
Pussy Basher and Olga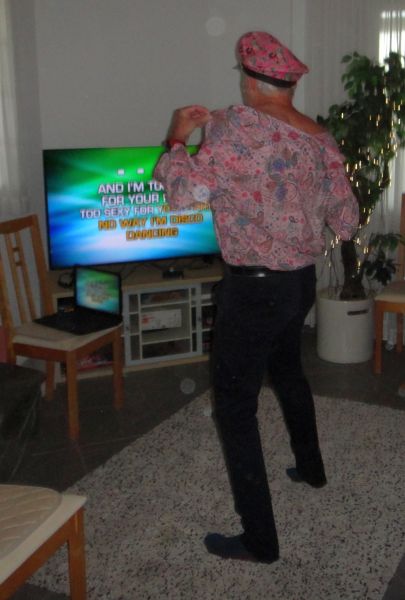 Pussy Basher feigns a striptease
Olga, Shoulder Boulder and Natalie
Family Group - Violet with Tender Vittles and Krazie Puppie
P.O.P.S sings brilliantly. What a voice!
POlga, Shoulder Boulder, Natalie, Doggie Style
Olga with Pussy Basher
Mad Dog has a go but is luckily drowned out by others singing
Tender Vittles gives Fair Cop and Mad Dog "outgoing" gifts of mastica liqueur (alcohol is always welcome)
Chocolate Dip's turn to sing - and he really gets into it!
Things get crazier
And now we are all dancing and singing the Time Warp from the Rocky Horror Show
TRAIL RECORDINGS
Pussy Basher's recording on his Garmin watch
PB's enlarged
3D4P's recording
Mad Dog's iPhone Strava app recording .GPX file displayed on Google Earth
Mad Dog's iPhone Strava website record
DIRECTIONS FOR THIS EVENT
The red pin (placemark) shows the start location & parking near FC & WD's pad
View showing location in the general area
Please use your "Back" Button (Top Left) to return to the previous page