Houston, Texas
(Athens Hashers away from home and running with the Houston Hash House Harriers - H4 founded 1979)
Pub Crawl - Friday 2nd December 2011
Houston run 1764.5 - Saturday 3rd December
Houston Hash Christmas Party - Saturday 3rd December

Photographer: Mad Dog
Downtown Pub Crawl - 2nd December - 7.00 pm
3 of the many pubs we crawled to or from.
Downtown Christmas Party Hash - 3rd December - 1:00 pm
- T H E T R A I L -
The lat/lon coordinates of the:
Starting point: 29°43'45.61"N, 95°20'5.16"W
End point & circle: 29°44'28.84"N, 95°20'31.99"W

Altitude: 34 feet above sea level
Trail cartographic Length = 9.96 km
Location of the hash - downtown - in the middle of loop 610
The A-to-B trail starting at the parking lot "P"
Closer view of the starting point.
Start location: The Gander Mountain in Spring off 45, 19302 Interstate 45, Spring, TX 77243

- Driving to the start of the run from Sugar Land -
The old sugar mill from which Sugarland, Texas got it's name
Heading to downtown Houston along the Southwest Freeway (59 North)
Nearing the centre
- The Run -
Gathering before the run
Pre-hash circle (almost)
The hares explain their trail markers (X for a check)
The runners are away!
A check
A view of the office district skyscrapers
A beer stop at a pub
Pitchers of beer are brought out for the thirsty hashers
Hasher gives a harriette on rollerblades a piggyback through a roadworks area.
The amazing Dynamo Soccer (yes Soccer) Stadium under construction
Self-explanatory image
OnOn!
New section of tramway under construction
The Circle - Tender Vittles (Mauricio) in the red T-shirt
Tender Vittles (Right) singing a hash song
Naming - Houston style
Getting into the Sag (Shag) Waggon or Anchor Truck (taking us back from B to A and our cars)

View of downtown Houston
Returning to Sugar Land on the SW Freeway (59) South


Hash Christmas Party - 3rd December - 7:00 pm
Theme: Enchantment Under The Sea (50's) - From the film "Back to the future #1"
Venue: Super Happy Fun Land
The poster from the film.
Michael J. Fox in "Back to the future #1" singing "Johnny be good"
Link to the YouTube video: http://www.youtube.com/watch?v=Qs88M5PaRvc&feature=related
All hashers were given a tankard & insulating sleeve on entering the premises
Then a photographer took everyone's photo

Mad Dog & Doggie Style
Tender Vittles & Krazie Puppy
Parson's Nose & Juices Flowing
Tender Vittles, Krazie Puppy & Doggie Style
The band
The 2010-2011 mis-management committee are given gifts.
Note Parson's Nose (bending down)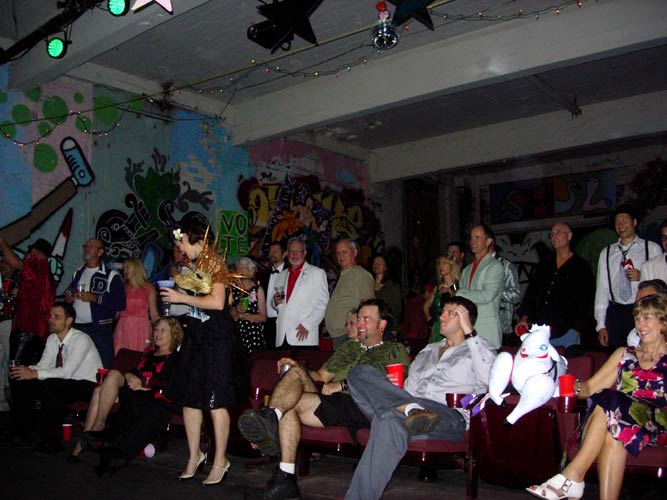 Tender Vittles receives a wrapped bag of flour for haring the trail of the quarter
Tender Vittles & Krazie Puppy for the worst trail of the year (turd award)
ars
Award for the trail with the worst hasher experience of the year (cars broken in to)
Award for best trail of the year
To Tender Vittles - for sweeping the most awards - a golden broom
Voted (with voting slips) - Prom King and Queen
NOTES

To save a photo to your disk drive:
- Internet Explorer - Netscape Navigator - Opera -

(1) Right-click your mouse on the photo
(2) A menu appears
(3) Click on "Save Picture As" (or "Save Image")
(4) Pull-down the "Save In" menu (click the down-arrow)
(5) Double-click on a disk drive letter (to choose a drive)
(6) Double click on a directory icon (if applicable)
(7) Type in a File name of your choice for the picture
(8) Click Save
To send the photo by e-mail as an attachment:
- Outlook Express -

(1) Click the "Create Mail" button to start a new e-mail
(2) Click Insert > File Attachment
(3) Pull-down the "Look In" menu (click the down arrow)
(4) Double-click on a disk drive letter (to choose the drive)
(5) Double click on a directory icon (if applicable)
(6) Click on the photo file name to highlight it
(7) Click "Attach" to attach the photo to the e-mail
MD Feb. 2006
Please use your "Back" Button (Top Left) to return to the previous page