Sunday 26th September 2010
11.00 a.m. Run 1713
Zappion - Central Athens

Advertised meeting point for the hashers
Entering the main activity area
Doggie Style

Panoramic View >>>>>>>>>>>>>>>>>>>>>>>>>>>>>>>>>>>>>>>>>>>>>>>>>>>>>

Panoramic View >>>>>>>>>>>>>>>>>>>>
Alpha Bank's Bungee jump
The stage
Alpha Bank amusements
Listening to the speeches
Speech in English
Doggie Style in front of the participants bags & belongings storage tent
(a very useful service & free)
The Zappion building
Group photo 1
Group photo 2 taken by IMF
Statue in the National Gardens - on the way to the start
- T H E R U N -
Black Mamba, Stress Cow & Mountain Goat bypass the queue
The Mayor of Athens starts the race
And we are away - almost
Here we go!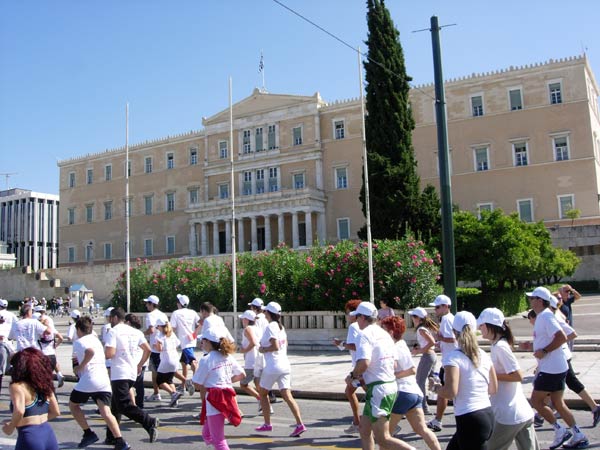 Passing the Parliament Building
Passing the Athens Hilton Hotel
On On!
And now the Kalimamaro Stadium
The National Gardens now on the right
Event staff cheer us on
Entering the National Gardens
Heading straight for the finish at the Zappion
Just what is needed after the run - an Amita orange juice
- T H E C I R C L E -
Stress Cow & returnee IMF (after about 2-years)
Clitoria (as organizer) is chosen as surrogate hare
Well done!
Get it down!
Bouboulina - for posing in front of the cameras
There ye go
Stress Cow
Down .... well not quite enough beer for the second Down
Rim Job
A rather soaked Mad Dog taking the Circle
A little joking... IMF the returnee
Whoa!
Mountain Goat
And a DIO for GM Mad Dog
Ahhh! I needed that!
- T H E W A L K T O T H E P U B -
Miniature horses in the National Garden
Heading up towards Plaka
Sorry, no we won't be stopping here for lunch
Working our way up and around the Acropolis
A sharp corner of the Acropolis fortification wall
We pass the famous Tower of the Winds
- T H E J A M E S J O Y C E I R I S H P U B -
Outside the James Joyce pub
Now we are really ready for some beer and a meal
Everyone has arrived & the meals have been ordered.
Mad Dog has changed into dry clothes
Black Mamba's "Sausage & Mash"
Mountain Goat's "Fish & Chips with Mushy Peas"
Mad Dog's "Dublin Pasty"
Doggie Style's "Beef Burger with Cheese & Pickle"
"Chicken Salad"
NOTES

To save a photo to your disk drive:
- Internet Explorer - Netscape Navigator - Opera -

(1) Right-click your mouse on the photo
(2) A menu appears
(3) Click on "Save Picture As" (or "Save Image")
(4) Pull-down the "Save In" menu (click the down-arrow)
(5) Double-click on a disk drive letter (to choose a drive)
(6) Double click on a directory icon (if applicable)
(7) Type in a File name of your choice for the picture
(8) Click Save
To send the photo by e-mail as an attachment:
- Outlook Express -

(1) Click the "Create Mail" button to start a new e-mail
(2) Click Insert > File Attachment
(3) Pull-down the "Look In" menu (click the down arrow)
(4) Double-click on a disk drive letter (to choose the drive)
(5) Double click on a directory icon (if applicable)
(6) Click on the photo file name to highlight it
(7) Click "Attach" to attach the photo to the e-mail
MD Feb. 2006
Please use your "Back" Button (Top Left) to return to the previous page