Halkida
(Pronounced Halkitha)
(Many Km North of Athens)
Run 1690 (Sunday 25th April 2010)
Hare: Napoleon's Bony Part

Photographer: Prickly Bush & MD

- T H E T R A I L -
The lat/lon coordinates of the starting point & circle: 38°28'38.36"N, 23°34'50.27"E

Altitude: 37 metres above sea level
Trail cartographic Length = 6.9 km
The trail from 3.4 Km up. The "P" shows the location of the hare's house where we all parked.
...and from 21 Km up
...and even highter at 257 km - showing the whole island of Evia
View of the Castle and fortification walls that were put under seige by the Athens Hashers
- T H E V E N U E -
Arriving at NBP & CC's house
Some hashers are already here
Panoramic view of the sea from the garden >>>>> Scroll right >>>>
Coffee, snacks etc available & served before the run
Charcoal for roasting the joints of lamb already lit.
The hash is hosted by Les Frenchies at Halkida
Chatting over coffee and cakes

- T H E R U N -
Napoleon's Boney Part, the hare
The first of many checks
Fair Cop fired up by the intake of caffeine
Napoleon and Mad Dog lagging behind. Too many cakes no doubt.
Hanging around on a check
Mountain Goat checking
Fair Cop posing
Mad Dog and Napoleon still suffering from an overdose of cakes while others check
Napoleon's Boney Part
Mountain Goat heads uphill
Where's the blue?
Halkida hashers minus Mountain Goat.

(Invading the Castle)
Mad Dog scouting for intruders
Napoleon presents Prickly Bush with a bucket of flowers
Patrolling the defences of Halkida Castle
Hashers wait while others check
Sunday morning promenade along the seafront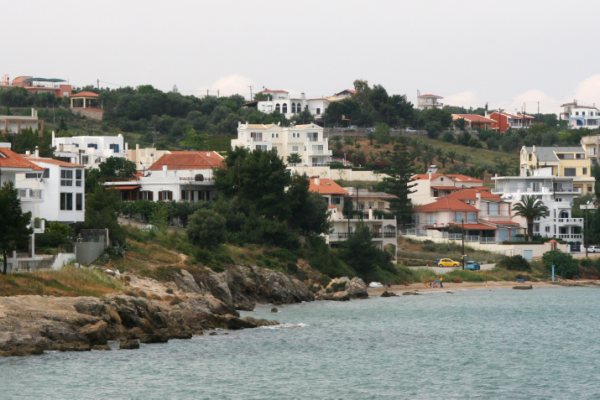 Still a long way for the ON IN
Mountain Goat and Gilles check the lamb
- T H E C I R C L E -

Coffee Crepe prepares the Down down bar
This must be the best ever hash bar
Mountain Goat and Wet Dream
The circle
The hare recieves an astounding score of 6.9
A DIO for a flying Fair Cop
Well done Prickly Bush. 100 runs
A DIO for the chef
A joint DIO for Mad Dog, Doggie Style, Bouboulina and Mountain Goat
Au revoir Coffee Crepe and Napolean's Boney Part
A joke from Mountain Goat
- LUNCH AT NBP & CC's HOUSE-

The hashers get stuck into drink and nibbles of frois gras, pate, egg thingies and lots more
Shag and Mountain Goat
Cous cous and coq au vin
Napoleon commands the table.
Yammas!
Kitty kindly eats Prickly's carrots
Panna cotta, strawberries and cake
Fair Cop
Payback time
View from Les Frenchies jardin
Mountain Goat weary from a tremendous hash...
...too much good food and maybe one glass of water too many.
NOTES

To save a photo to your disk drive:
- Internet Explorer - Netscape Navigator - Opera -

(1) Right-click your mouse on the photo
(2) A menu appears
(3) Click on "Save Picture As" (or "Save Image")
(4) Pull-down the "Save In" menu (click the down-arrow)
(5) Double-click on a disk drive letter (to choose a drive)
(6) Double click on a directory icon (if applicable)
(7) Type in a File name of your choice for the picture
(8) Click Save
To send the photo by e-mail as an attachment:
- Outlook Express -

(1) Click the "Create Mail" button to start a new e-mail
(2) Click Insert > File Attachment
(3) Pull-down the "Look In" menu (click the down arrow)
(4) Double-click on a disk drive letter (to choose the drive)
(5) Double click on a directory icon (if applicable)
(6) Click on the photo file name to highlight it
(7) Click "Attach" to attach the photo to the e-mail
MD Feb. 2006
Please use your "Back" Button (Top Left) to return to the previous page