Marathon village
(North-West of Athens)
Run 1613 (Sunday 16th November 2008)
Hare: Rim Job

Photographer: Mad Dog
- T H E T R A I L -
The starting point & circle:
Latitude 38 08' 59.90'' North
Longitude 23 57' 48.12'' East
Altitude: 35 metres above sea level
Trail cartographic Length = 8.98 (9) km
The trail from 3 Km up (Note: North is to the right)
The trail from 18 Km up (Note: North is at the top)
- T H E R U N -
Information board close to the start of the run
Close-up of the board showing Marathon village and the start of the Athens Classic Marathon run
(very close to where this run started)
(A diagram of the 2004 Olympic Rowing Centre can be seen on the right.
This, Marathon lake and Marathon village can be clearly seen on the satellite photo above)
On On south along Marathon Avenue
On Up into the hills on the north side
On through the bushes
Anyone seen the next blue?
On down
A rocky bit
Down into the agricultural area (Spy Shagger & Yordanka)
Salad anyone?
A little broccoli perhaps?
On on!
Heading back along the dry river bed
(Some shortcutters missed this interesting bit by returning along the main road)
Slow-going over the rocks
- T H E C I R C L E -
Hashers gather for the circle
The hare - Rim Job
Rim Job in the circle
Oopah (Karl) - an old Athens hasher visiting from Germany
(He drove 3 hours to get to the hash today!)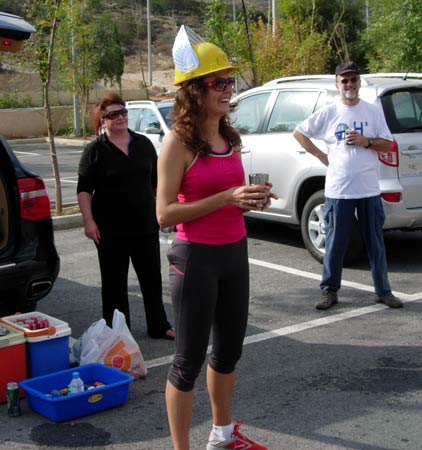 Currently unnamed Yuliya is awarded the FRB helmet
Visitors DIO

(Oopah proudly displays his AH3 300-run badge he received in 2002)
Rear Entry gets a down-down
RA Fair Cop & Hash Cash Wet Dream get a DIO for
having a nice meal by the sea last Sunday while other
hashers were running the 10Km Marathon.
- T H E T A V E R N A -
The road signs (on the North side) opposite the Indian restaurant on Marathonas Avenue
(About 3 Km from Marathon village - in case you are trying to find the place in the future)
Doggie Style outside the Taj Mahal Indian Restaurant
Yordanka demonstrates a gymnastics position on the restaurant stage.
First came the Papadums.
(The papadum recipe varies from region to region in South Asia
but typically it is made from lentil, chickpea, black gram or rice flour)
Chicken Tikka Masala (above)
(Chicken tikka masala is chicken tikka, chunks of chicken marinated in spices and yoghurt
then baked in a tandoor oven, in a masala "mixture of spices" sauce)
Tucking in to the main course - after very filling starters.
Then more rice (and wine) arrives. Luckily they had some take-away boxes available.
All this for Euro 15 per head! That's value in 2008!
NOTES

To save a photo to your disk drive:
- Internet Explorer - Netscape Navigator - Opera -

(1) Right-click your mouse on the photo
(2) A menu appears
(3) Click on "Save Picture As" (or "Save Image")
(4) Pull-down the "Save In" menu (click the down-arrow)
(5) Double-click on a disk drive letter (to choose a drive)
(6) Double click on a directory icon (if applicable)
(7) Type in a File name of your choice for the picture
(8) Click Save
To send the photo by e-mail as an attachment:
- Outlook Express -

(1) Click the "Create Mail" button to start a new e-mail
(2) Click Insert > File Attachment
(3) Pull-down the "Look In" menu (click the down arrow)
(4) Double-click on a disk drive letter (to choose the drive)
(5) Double click on a directory icon (if applicable)
(6) Click on the photo file name to highlight it
(7) Click "Attach" to attach the photo to the e-mail
MD Feb. 2006
Please use your "Back" Button (Top Left) to return to the previous page