Maroussi
& the Athens 2004 Olympic Stadium Complex
(Northern Athens)
Run 1582 (Sunday 27th April 2008)

- GREEK EASTER SUNDAY -
Hare: Cook The Fook

Photographer: Mad Dog
NOTE: Use the horizontal scroll bar (bottom of screen) to view the panoramic photos.
- T H E T R A I L -
The starting point & circle (CTF & BOD's house in Maroussi):
Latitude 38 02' 35.91'' North
Longitude 23 47' 41.77'' East
Altitude: 196 metres above sea level
Trail cartographic Length = 8.5 km
From 2 Km altitude
From 5 Km altitude
Cook The Fook's and Sheila's house in Maroussi
- T H E R U N -
LUCKY SHEEP

(Ain't they sweet)
(Lucky to be alive in Maroussi on Easter Sunday!)
Local dogs welcome us (or maybe not)
Crossing the Attiki Odos motorway
Mad Dog with Hare & GM Cook The Fook
Cook The Fook takes time out for a s.....nooze
(Just what is a toilet bowl doing on the pavement???)
Hashers (left) head for the Olympic Stadium (in the distance)
A quick stop to play in the sand :-)
Panoramic view - Crossing the Attiki Odos again - Note The Mall on the left.
Floppy Dick with his Star Wars light sabre (box)
Flowers of Spring
More Dogs to greet us - this time there were friendly puppies
A glimpse (by the rail tracks) of the Calatrava walkway in the OAKA grounds
Panoramic - Entering the OAKA Olympic complex
Dwarfed by the Calatrava structure
Panoramic view of the entrance, walkway & water pools
Panoramic view of the main stadium & other OAKA facilities
Leaving the Olympic complex
The archaeological exhibit near the exit

(Location: 38° 02' 19.67" N, 23°47' 22.49" E)
Interesting description of the archaeological finds.
Olympic complex Ice Rink .... Would be nice if it was open to the public!!
- T H E C I R C L E -
The circle was a sitting-down circle as it was also Easter lunchtime.
Panoramic view of the circle. Clitoria poured the beers.
Clitoria prepares the Down downs
The hare's DIO

(Cook The Fook took us on a grand tour of Maroussi)
DIO's for not wearing hash attire
CU Sheila receives her 50 run (walk) badge
The badge is stuck on with beer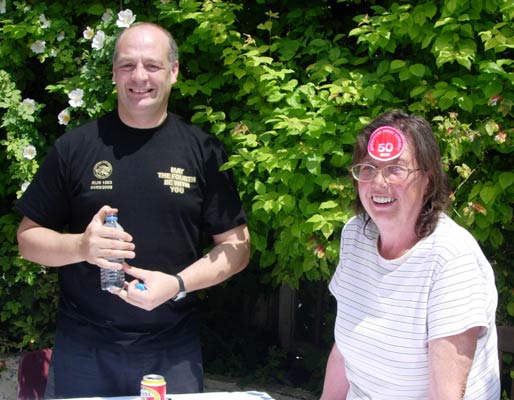 Well done! CU Sheila. Now isn't there something we are forgetting?
Sheila doesn't have a hash name. Let's have a naming!
Bride of Derekula - is feeling a bit damp!
Mad Dog's DIO
Clitoria & her pussy cat

(Is she turning a bit marsupial?)
Mad Dog gets strangled by Cook The Fook's carnivorous garden shrub
- THE MEAL AT COOK THE FOOK & B-of-D's HOUSE -
Tucking into Easter lunch
Cooked by Cook The Fook with a Cokoretsi contribution from Hamish.
Roast lamb, roast beef, mint sauce + veggies & Yorkshire Puddings
After lots of wine & beer - what better than to nod-off under a bush?
NOTES

To save a photo to your disk drive:
- Internet Explorer - Netscape Navigator - Opera -

(1) Right-click your mouse on the photo
(2) A menu appears
(3) Click on "Save Picture As" (or "Save Image")
(4) Pull-down the "Save In" menu (click the down-arrow)
(5) Double-click on a disk drive letter (to choose a drive)
(6) Double click on a directory icon (if applicable)
(7) Type in a File name of your choice for the picture
(8) Click Save
To send the photo by e-mail as an attachment:
- Outlook Express -

(1) Click the "Create Mail" button to start a new e-mail
(2) Click Insert > File Attachment
(3) Pull-down the "Look In" menu (click the down arrow)
(4) Double-click on a disk drive letter (to choose the drive)
(5) Double click on a directory icon (if applicable)
(6) Click on the photo file name to highlight it
(7) Click "Attach" to attach the photo to the e-mail
MD Feb. 2006
Please use your "Back" Button (Top Left) to return to the previous page