Run 1542 (Monday 23rd July 2007)
Hare: Fiery Tw*t

Photos & captions: Cook The Fook & Shiela
Total photos & images: 20
Total filesize: 1,200 Kilobytes
Minimum 6.6 mins download time at 28.8 Kilobits/sec
Bottom Return To Photo Menu (<= Back may be faster)
- T H E R U N -
1. Which way is it?
2. Picturesque house
3. Walk this way
4. Mash
5. Banger
6. Mountain Goat meditating on the run
7. No beer at this pit stop for Strawberry
8. Still a long way to go!
- T H E R E C O V E R Y -
9. Resting after the run
10. Fiery looking for a cold beer. She'll be lucky, to say the least
11. Happy walkers relax in the shade
- T H E C I R C L E -
12. Is this the end of Goes Down?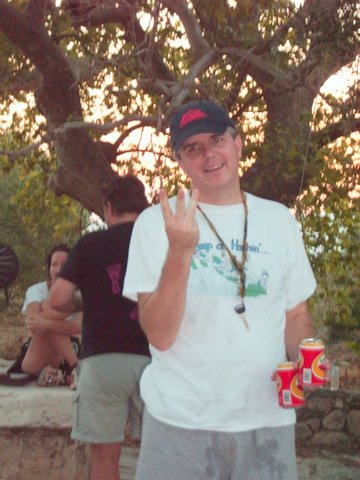 13. Is this because of inflation?
14. Hot beer shampoo, anyone?
15. Stress Cow and snowjob. Hash T-shirts required.
Cow has a DIO for last week. She says she laid the trail!
17. Another award for Fiery. Is it a Hash t-shirt?
18. She seems happier with it on. So were the rest of us.
19. ADS makes the S**t of the Week award, but to whom?
20. Yes, you've guessed correctly. Fiery T**t again.
NOTES

To save a photo to your disk drive:
- Internet Explorer - Netscape Navigator - Opera -

(1) Right-click your mouse on the photo
(2) A menu appears
(3) Click on "Save Picture As" (or "Save Image")
(4) Pull-down the "Save In" menu (click the down-arrow)
(5) Double-click on a disk drive letter (to choose a drive)
(6) Double click on a directory icon (if applicable)
(7) Type in a File name of your choice for the picture
(8) Click Save
To send the photo by e-mail as an attachment:
- Outlook Express -

(1) Click the "Create Mail" button to start a new e-mail
(2) Click Insert > File Attachment
(3) Pull-down the "Look In" menu (click the down arrow)
(4) Double-click on a disk drive letter (to choose the drive)
(5) Double click on a directory icon (if applicable)
(6) Click on the photo file name to highlight it
(7) Click "Attach" to attach the photo to the e-mail
MD Feb. 2006