Run 1534 (Monday 28th May 2007)
Live Hare: Budwanker

Photographer: Mad Dog
Total photos & images: 16
Total filesize: 678 Kilobytes
Minimum 3.2 mins download time at 28.8 Kilobits/sec
Bottom Return To Photo Menu (<= Back may be faster)
THE RUN
Starting location & circle: 37 59.217 N, 023 48.327 E


GPS track of the trail (indicating the starting point of the run)
Cartographic Length = 3.4 km

NOTE: The Papagou Tennis Club - the green area in the centre &
also the Immitos Ring (the section skirting Mount Immitos)
of the Attiki Odos motorway.


View from 4.25 Km altitude
And the pack is away - trying to catch the hare
(not much chance with the hare's 15-minute head start)
Strawberry4Skin runs to catch-up with the pack after searching for
the live-hare's trail in the wrong direction. All part of the fun.
A hasher disappears into the distance.
There is a surprising amount of unbuilt-on greenery in Papagou.


THE CIRCLE


The circle forms naturally round the cooler of iced beer


Guest RA Strawberry4Skin calls the hare into the circle
Clitoria is assigned the beer-bitch duty
for arriving at 7.00 PM instead of this
hash's special start time of 6.00 PM


Alleged front-runner & guest RA Strawberry4Skin (awarded the helmet)
brings Banger into the circle for her recent commendation
for woman's speed & fitness.
THE ON ON AT BUDWANKER'S PAD
Bubba burgers - our favourites

(GM Budwanker poses with Cook The Fook)
Tequila mixers
(Well, Budwanker did say he wanted
help with using-up his booze)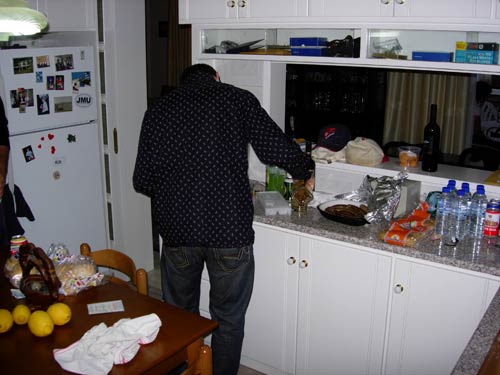 Scarlet Pimp adds-in some extra tequila
Cook The Fook had brought some of his famous
home-made sausages
Budwanker puts the burgers on the BBQ
...And later adds the sausages
Hungry hashers tuck-in (Clitoria makes a funny face)
Shhhh!, don't wake her up!!!

(Prickly Bush does a Pink-Jenny emulation)
NOTES

To save a photo to your disk drive:
- Internet Explorer - Netscape Navigator - Opera -

(1) Right-click your mouse on the photo
(2) A menu appears
(3) Click on "Save Picture As" (or "Save Image")
(4) Pull-down the "Save In" menu (click the down-arrow)
(5) Double-click on a disk drive letter (to choose a drive)
(6) Double click on a directory icon (if applicable)
(7) Type in a File name of your choice for the picture
(8) Click Save
To send the photo by e-mail as an attachment:
- Outlook Express -

(1) Click the "Create Mail" button to start a new e-mail
(2) Click Insert > File Attachment
(3) Pull-down the "Look In" menu (click the down arrow)
(4) Double-click on a disk drive letter (to choose the drive)
(5) Double click on a directory icon (if applicable)
(6) Click on the photo file name to highlight it
(7) Click "Attach" to attach the photo to the e-mail
MD Feb. 2006